The new Canton Public Library catalog offers 24/7 recommendations for your next read as you interact with the catalog, place holds, and personalize your shelves.
For example, when you add a book to your completed shelf or give it a rating in the catalog, the Library Dashboard will provide recommendations for a few other books that you may like.
Sometimes the book you want to read is checked out. We welcome you to place holds on materials you're interested in, but while you wait, the catalog will offer suggestions for similar items. Simply click on the orange "While You Wait" prompt and the catalog will provide a few similar titles that we have available.
For more inspiration, most titles offer suggestions when you view the book. You can click on "View all recommendations" to see a full list of recommended items similar to the item you're looking at.
The community and staff at the Canton Public Library are also here to help. Most books have contributions from the community in the form of reviews or lists that feature the item you're looking for, along with other items similar to it or fitting a certain theme.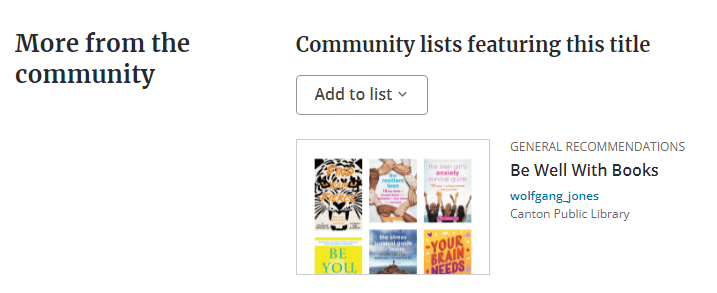 The catalog is here for you 24/7 with automated suggestions. If you'd like a personalized recommendation from one of our librarians, check out our May We Suggest service and fill out the form below.