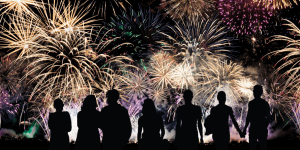 Fireworks are a highlight of the summer event season in Michigan. Whether it's small towns, large cities, lakeshores, or hometown festivals, all provide warm evening opportunities to watch pyrotechnics in the dark sky.
While the list below isn't comprehensive of every fireworks viewing opportunity in Southeast Michigan, it will give you some options to plan your nighttime summer adventures.
Metroparks Fireworks (various dates based on location)
Festival in the Park Fireworks in Madison Heights – Saturday, June 24, 2023
Lake Orion Jubilee Fireworks – Sunday, June 25, 2023
Detroit Ford Fireworks – Monday, June 26, 2023
Festival of the Hills Fireworks in Rochester Hills – Wednesday, June 28, 2023
Independence Fest Fireworks in Clarkston – Saturday, July 1, 2023
White Lake Township Fireworks – Saturday, July 1, 2023
Kensington Metropark Fireworks – Sunday, July 2, 2023
Tiki Night Fireworks in Wolverine Lake – Monday, July 3, 2023
Comerica Park Fireworks – Tuesday, July 4, 2023 (Independence Day postgame fireworks) and Friday night fireworks following select Tigers games on July 7 & 21, August 4 & 25, and September 8 & 29, 2023.
Uncle Sam Jam Fireworks in Woodhaven – Friday, July 7, 2023
Check the Oakland County Moms website for more fireworks listings in the area.