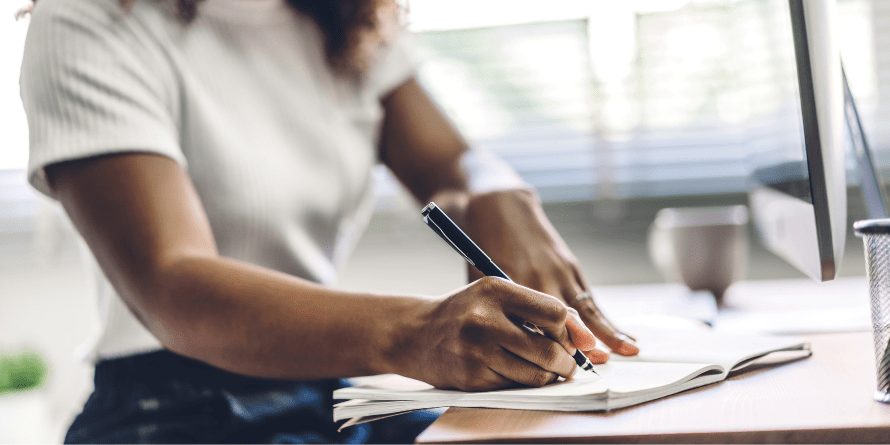 February is Black History Month, but reading works by Black authors shouldn't just occur in February. Take a look at the list below, broken down by genres, to find new authors you can read any time of the year.
Classic/Literary Fiction
The Street by Ann Petry
The Street tells the poignant and often heartbreaking story of Lutie Johnson, a young Black woman, and her spirited struggle to raise her son amid the violence, poverty, and racial dissonance of Harlem in the late 1940s.
Invisible Man by Ralph Ellison
The book's nameless narrator describes growing up in a Black community in the South, attending a Black college from which he is expelled, moving to New York and becoming the chief spokesman of the Harlem branch of "the Brotherhood," before retreating amid violence and confusion to the basement lair of the Invisible Man he imagines himself to be. 
Passing by Nella Larsen
Irene and Clare, childhood friends from Harlem, are reunited as adults, but their relationship is strained by the revelation that Clare, who is biracial, has been passing for white— and that even her own husband is unaware of her heritage.
Their Eyes were Watching God by Zora Neale Hurston
This poetic, graceful love story rooted in Black folk traditions and steeped in mythic realism celebrates boldly and brilliantly African American culture and heritage. In a powerful, mesmerizing narrative, it pays quiet tribute to a Black woman who, though constricted by the times, still demands to be heard.
Mystery/Suspense
When No One is Watching by Alyssa Cole
Rear Window meets Get Out in this gripping thriller from a critically acclaimed and New York Times Notable author, in which the gentrification of a Brooklyn neighborhood takes on a sinister new meaning.
Forty Acres by Dwayne Alexander Smith
Martin Grey, a smart, talented Black lawyer working out of a storefront in Queens becomes friendly with a group of some of the most powerful, wealthy, and esteemed Black men in America. They invite him for a weekend away from it all— no wives, no cell phones, no talk of business. But far from home and cut off from everyone he loves, he discovers a disturbing secret that challenges some of his deepest convictions. 
August Snow by Stephen Mack Jones
From the wealthy suburbs to the remains of Detroit's bankrupt factory districts, August Snow is a fast-paced tale of murder, greed, sex, economic cyber-terrorism, race and urban decay.
These Toxic Things by Rachel Howzell Hall
Los Angeles twentysomething Mickie Lambert is in the business of preserving people's memories— taking objects and turning them into a kind of digital scrapbook. That is just what she is doing when curiosities shop owner and client Nadia Denham is murdered.
Romance
Real Men Knit by Kwana Jackson
When their foster-turned-adoptive mother suddenly dies, four brothers struggle to keep open the doors of her beloved Harlem knitting shop.
Get a Life Chloe Brown by Talia Hibbert
Talia Hibbert, one of contemporary romance's brightest new stars, delivers a witty and hilarious romantic comedy about a woman who's tired of being "boring" and recruits her mysterious, sexy neighbor to help her experience new things— perfect for fans of Sally Thorne, Jasmine Guillory, and Helen Hoang. 
The Wedding Date by Jasmine Guillory
Agreeing to go to a wedding with a guy she gets stuck with in an elevator is something Alexa Monroe wouldn't normally do. But there's something about Drew Nichols that's too hard to resist.
A Duke, the Lady, and a Baby by Vanessa Riley
When headstrong West Indian heiress Patience Jordan questioned her English husband's mysterious suicide, she lost everything: her newborn son, Lionel, her fortune, and her freedom. Falsely imprisoned, she risks her life to be near her child— until The Widow's Grace hires her as her own son's nanny. But working for his unsuspecting new guardian, Busick Strathmore, Duke of Repington, has perils of its own.
Science Fiction/Fantasy
Parable of the Sower by Octavia E. Butler
In the year 2025 on the outskirts of Los Angeles, Lauren Olamina is left to fend for herself when a fire destroys her family's compound. While making her way north to safety along with a handful of other refugees, Lauren comes up with a revolutionary idea that may save all of mankind.
An Unkindness of Ghosts by Rivers Solomon
Aster was born into slavery, and she's trying to escape from the brutally segregated spaceship that for generations has been trying to escort the last humans from a dying planet to a Promised Land. When she discovers clues about the circumstances of her mother's death, she also comes closer to disturbing truths about the ship and its journey.
The Fifth Season by N.K. Jemisin
Essun comes home one day to find her husband has killed their son and kidnapped their daughter. She must journey through a broken and war-torn world to find and save her daughter, all during the collapse of the all-powerful empire that has ruled over the world for a thousand years.
Binti by Nnedi Okorafor
Her name is Binti, and she is the first of the Himba people ever to be offered a place at Oomza University, the finest institution of higher learning in the galaxy. But to accept the offer will mean giving up her place in her family to travel between the stars and among strangers who do not share her ways or respect her customs.